Up until mid-April the plan was basically a repeat of last summer. Grenada is certainly a cruiser friendly hangout, far enough from the bulk of the hurricane tracks to be considered safe, and Trinidad, just 80 miles to the south, has excellent haul out facilities.
On the other hand, it's just plain hot as hell down there. And if you haul out or dock pretty much anywhere in the tropics there's a good chance you will end up with really annoying bugs on your boat. Like crickets, for example. Took me nearly six months to get rid of these infernal pests which had somehow managed to stow away aboard. They chirped all night long; I slept with cotton in my ears. There are also security concerns in those parts which unfortunately are only becoming more concerning as the situation in Venezuela deteriorates. That and I want to avoid ruts, so time for another change…
My first thought was Florida. Never been to the Sunshine State with Ruth Avery before, it's a favorite with cruisers, and it's still warm in the winter should I decide to stay. But Florida is not immune from Hurricanes, and scanning the charts I see much that could be rather tricky for an engineless boat. Lots of narrow inlets, narrow channels–not the place for a straight sailboat. I'm sure it's doable, only I would have to pick my ports, my weather, and proceed with caution.
Now sailing back to Maine like I used to do is nearly a direct north-south run, but that last stretch from just south of the Gulf Stream until the Great South Channel is typically a rough one. In addition, when heading south in the fall it is nearly 400 miles to the Gulf Stream, which makes timing the weather for crossing the Stream difficult. A direct passage from Maine to the Virgin Islands in the fall is a tough one.
Well what about the Chesapeake Bay? Ah, there's an idea. Ruth Avery has not been on the Bay since 2004, and I originally bought her from Meade Breese up in Rock Hall, Maryland, back in 2001, so the Bay will be a homecoming for the old girl. And unlike many places the Bay is chock full of anchorages, some near a city, others just a remote creek. And the Gulf Stream is only about 100 miles from the mouth of the Chesapeake, so much easier to time the departure in the fall for a fair weather crossing (in theory, anyway…).
And the Chesapeake is hurricane safe.

As I have done in previous years I will first sail to the beautiful little island of Culebra to clear customs so that I can legally sail to the U.S. without having to clear in there. Plus Culebra is just a gem. It has several anchorages that look and feel just like what the Caribbean should be, warm and beautiful …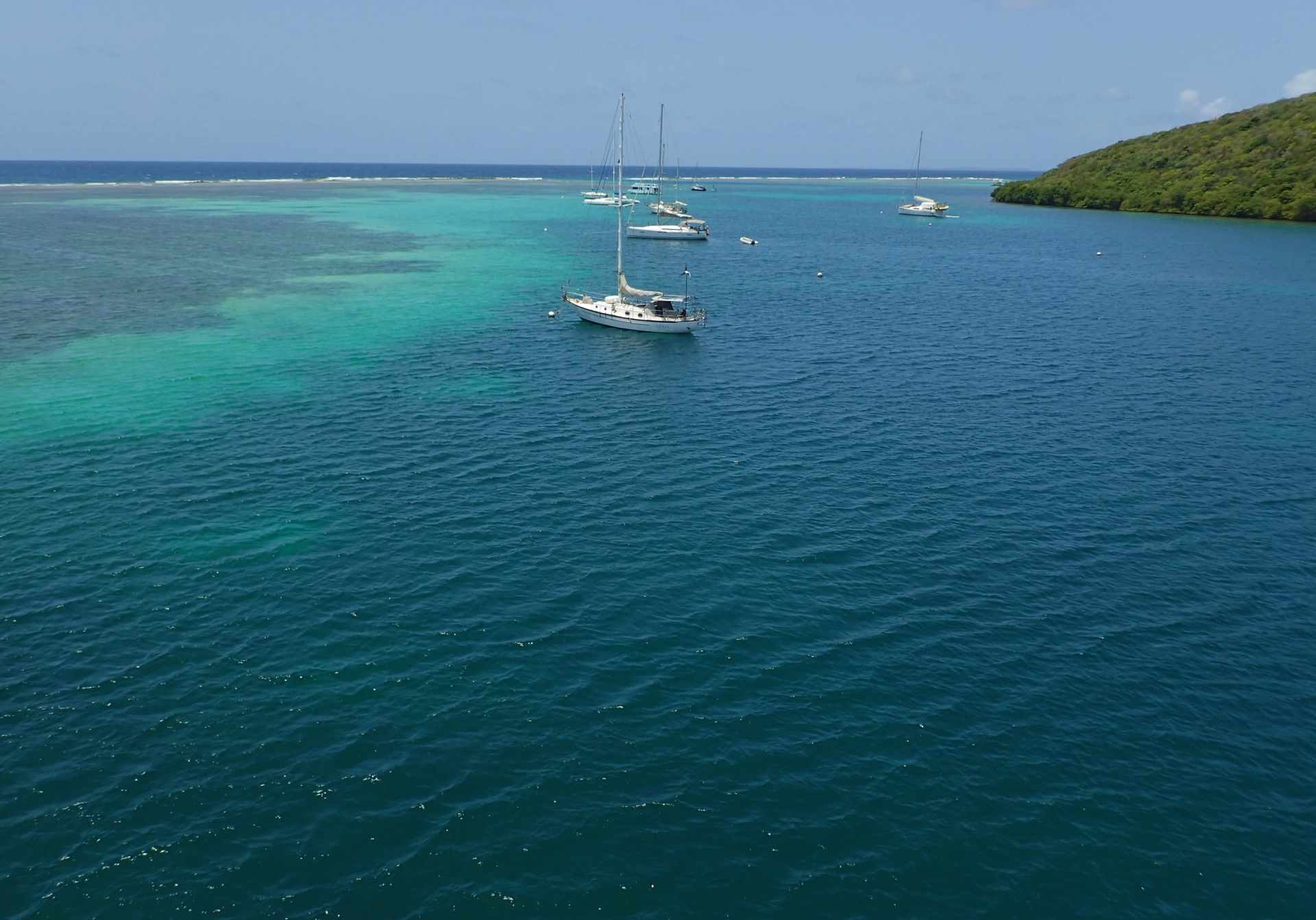 So the Chesapeake Bay it will be.
Today is Saturday, June 11, 2016; 1000 hours. The Atlantic is clear of tropical cyclones, GRIB files showing light to moderate winds for the next week, generally southerly in direction. About as good a weather window as any …

And all was just smooth sailing until the second night out. As darkness fell upon us (me and ship, that is) I could see lightning up in the clouds off to the southwest. This brought back memories of a long time ago when my father and family were attempting a passage from the Bahamas to the Virgin Islands in his 31-foot Contest named Wind Rose. We were riding a norther to the southeast, and I think it was just our first night out when we saw a similar phenomenon. I remember my father explaining that it was "heat lightning", the lightning that stays up in the clouds. Then I remember the north wind dying away to a zephyr, the boat slowing to a crawl, and it was eerily quiet when all of a sudden–WHAM!–the Furies descended upon us. I recall I was sitting on the windward cockpit bench, my mother opposite to leeward, and in the black mayhem I was watching the ocean pouring in over the lee coaming. My father yelled "Release the jib sheet!" and my mother obeyed, mechanically, without expression or emotion. The sail thundered crazily in the shrieking winds. Amazingly, the sail did not blow out, nor was there any damage to the boat. We had dodged a bullet.
Now here I am nearly forty years and sixty thousand sailing miles later remembering that my dad called this "heat lightning", recalling the memory of that ferocious squall. I sit in my favorite fair weather spot, the companionway hatch, bracing myself with the boom gallows, sipping my evening coffee. I begin hearing rumbles of thunder and the wind is dying away, the boat slowing to a crawl. Then it begins to pick up again and I drag myself amidships to tie a reef in the mainsail. The gaff is scandalized, I'm searching for the luff cringle in the blackness when … WHAM! … the Furies descend upon me. Ruth Avery is on her beam ends just as poor Wind Rose had been many years ago, fighting for her life. Leaving the mainsail I release the staysail halyard and scamper forward to pull the sail down. But I cannot. Ruth Avery is so far heeled over that the wind is pulling the sail back up the stay. When it finally lulls after probably only a few minutes (seemed like an hour) I manage to get the sail down and I can feel soft, shredded Dacron in my hands. I reach to secure the halyard with a head stop but the halyard is gone–lost somewhere in the blackness aloft.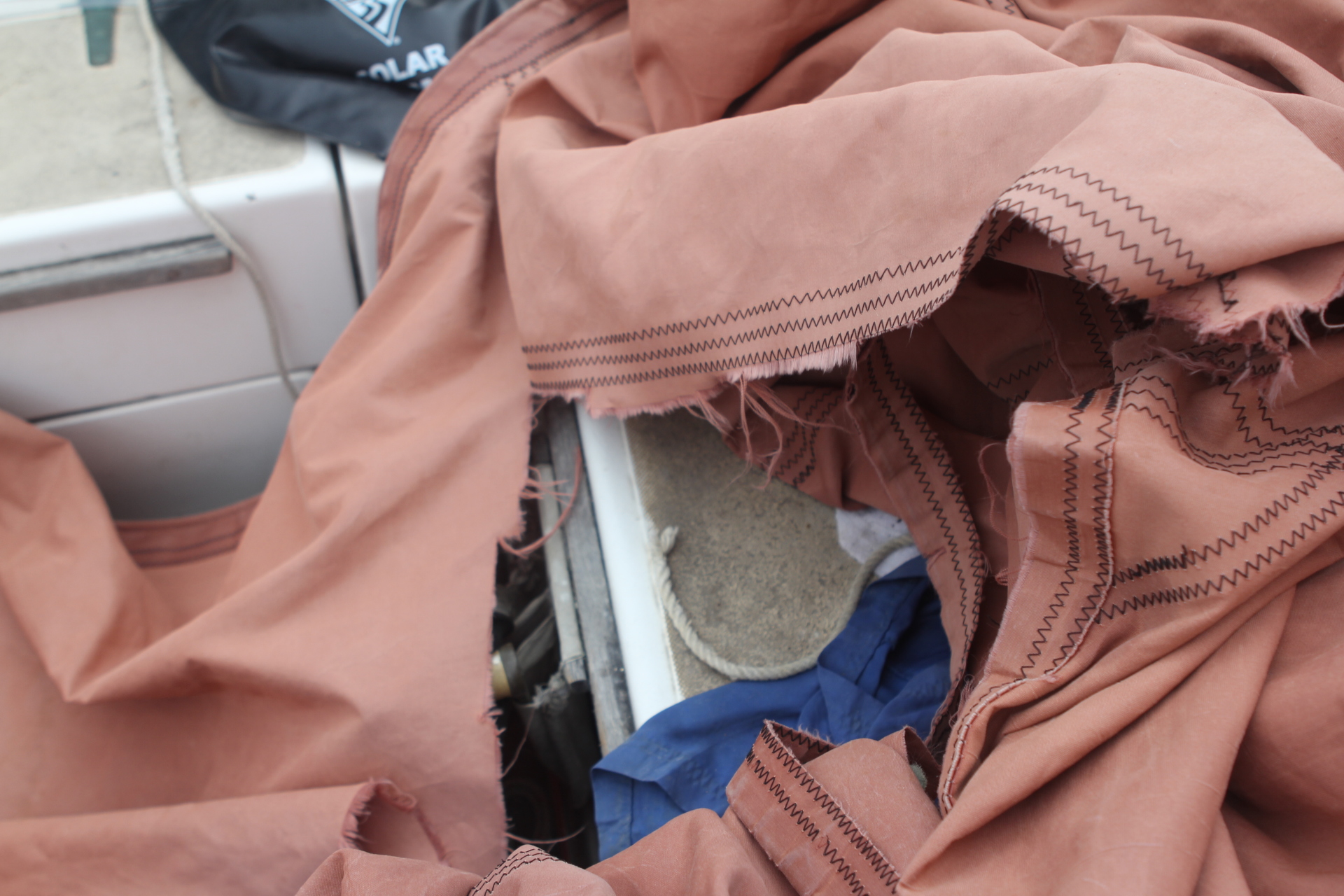 But this will have to wait. Presently Ruth Avery is wallowing in these confused seas with no sails set. From under the forward berths I dig out the big yankee, which I have not flown in years, and hank it on to the jib stay while straddling the bowsprit, the deep blue ocean just beneath my feet. Hoisted and set she's making about four knots in the following southerly breeze, but still rolling badly. Unfortunately the mainsail is torn on the inside end of the third batten. I bring my ditty bag up on deck and sew two patches over the tear, using sail tape on the opposite side to hold it while I sew. By lunch time I have a working main, and set it with one reef still tied in. Her motion improves dramatically, she's up to about five knots now, and the steering vane has her on course.

So now I am down to two problems: repairing the staysail and retrieving the halyard which is presently "two blocked" aloft. And she's going to need the staysail, no doubt, I can't count on fair, following winds from here to the Chesapeake. But I am tired and the situation is stabilized for the time being. I dig out one of the few remaining cold beers in the fridge and heat up the leftover chicken piccatta. I follow lunch with a nap (per time honored tradition). A few days later the winds fall light, the sky is clear, the sea just gentle rolling swells. I extract the bosun's chair from beneath piles of ropes and fenders in the cockpit locker and drop the big yankee, letting her sail under main alone. I shall use the jib halyard to pull myself up the mast. But only to the throat of the mainsail, from where I should be able to hook the staysail halyard and block with the boathook. As I ascend the wooden spar I see a big green freighter passing a few miles astern. The ocean is at its most innocent baby blue today, hard to imagine it the very same that just tried to wreck me. As I get up near the throat of the mainsail even the gentle motion of a calm sea becomes a bit difficult to manage as I need two hands–hand-over-hand–to haul myself up, so I can only steady myself with my feet. Frequent stops are necessary; the ascent quickly gets tiring.
Up at the throat I tie off and carefully extend the boathook to full length. Again two hands are needed and it is difficult to steady myself long enough to aim the hook at the loop between the block aloft and the block that shackles to the head of the staysail. After three or four tries I snag it and manage to pull the loop of line toward me, and the block soon follows, sliding down under its own weight. I tie off the boathook and block to the bosuns chair and begin my descent. Mission accomplished. I go down about a meter when I hear a hollow thumping aloft. Oh shit! The block had come untied and is now ascending back up to where it was as the weight of the hauling end of the halyard falls back down toward the deck. Quickly I extract the boathook again (luckily I did not lose that) and manage, with difficulty, to snag it again. This time I tie a better knot.

I find a new shackle in one of my numerous spare parts bins (they become like tree rings to long time cruising boats) and I see to it that the pin is moused with heavy stainless steel wire so there is little chance of it working its way out again. I set the big yankee and drink the last beer on board, so now I am teetotal for the rest of the passage, which is a bummer but I am very happy to have that halyard back in service again.

So now all I have to do is stitch that staysail back together. Luckily I had recently gotten my hands on several off cuts of spare cloth when I ordered a new bag for the staysail. I would not have had enough cloth to do the job otherwise. I begin by taping the staysail back together with sail repair tape, but that does run out about halfway through the job so I use –you guessed it–duct tape. I work at it an hour or two each day, stitching with palm and needle, and my stitching noticeably improves over the course of the repair. Which takes four days. Not quite a racing sail set, but it is a working sail again, and that's good enough.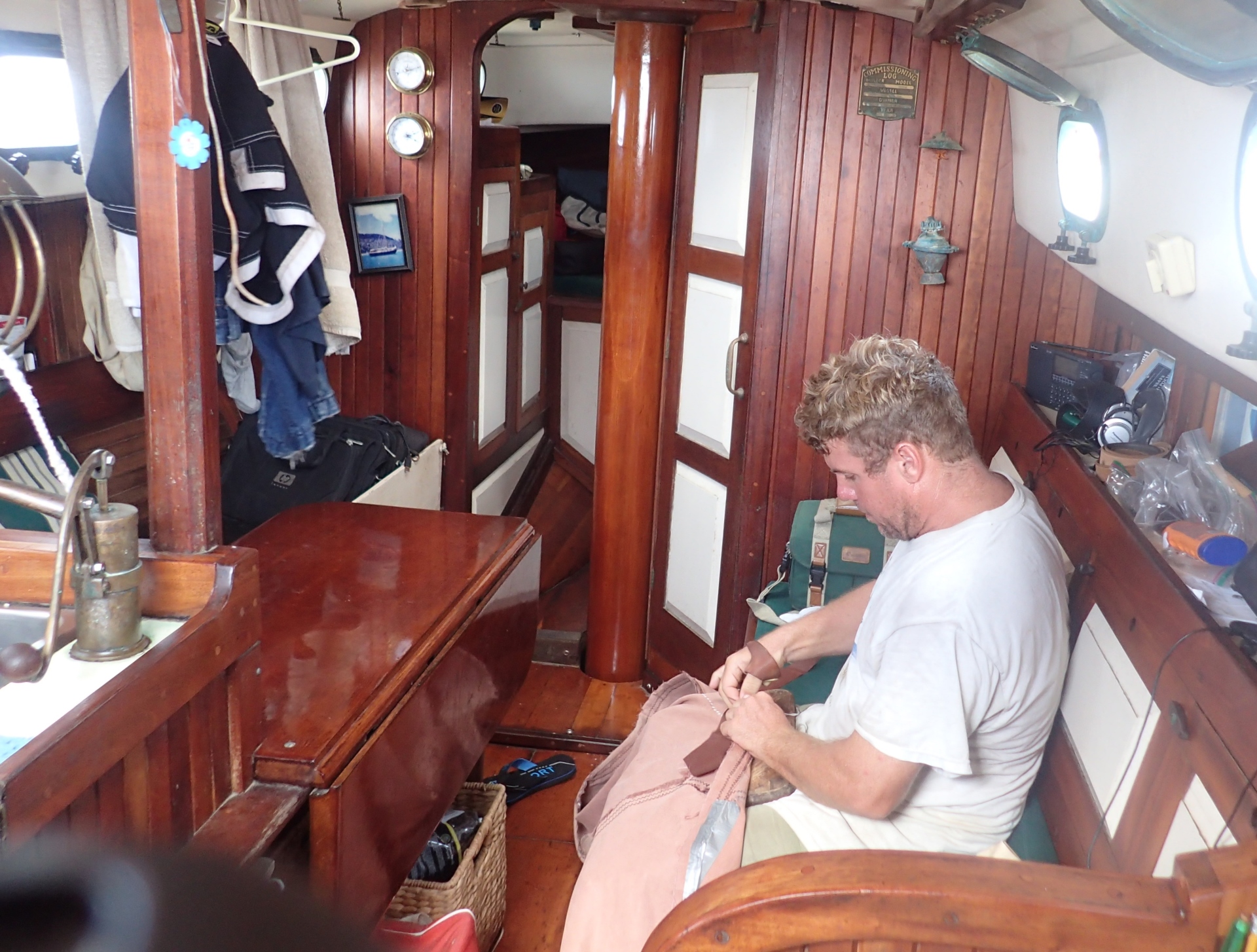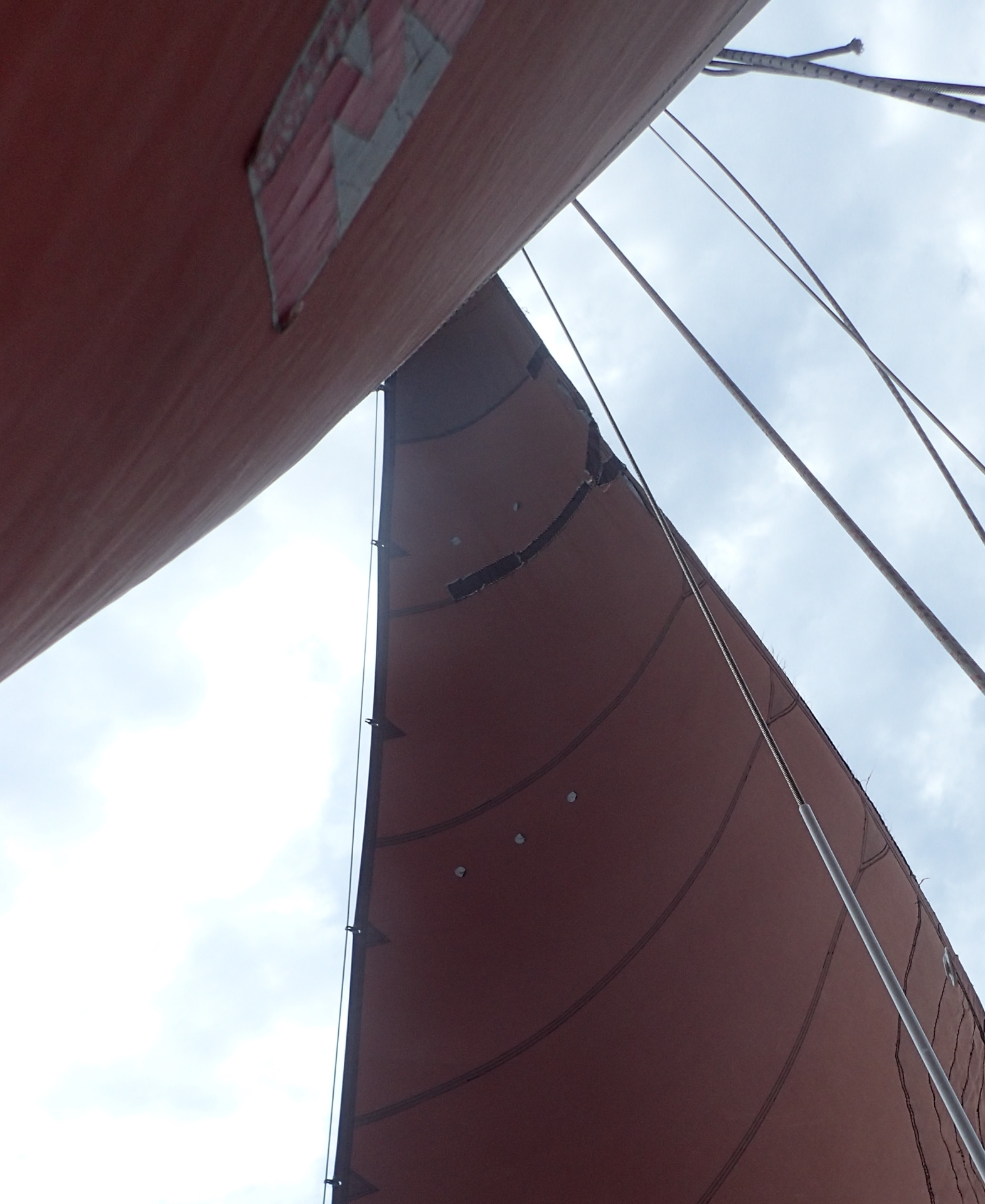 For one day I am rewarded with beautiful sailing. On such days the evenings are particularly enchanting. A sailing boat blends with the natural world, which for the time being is placid and beautiful …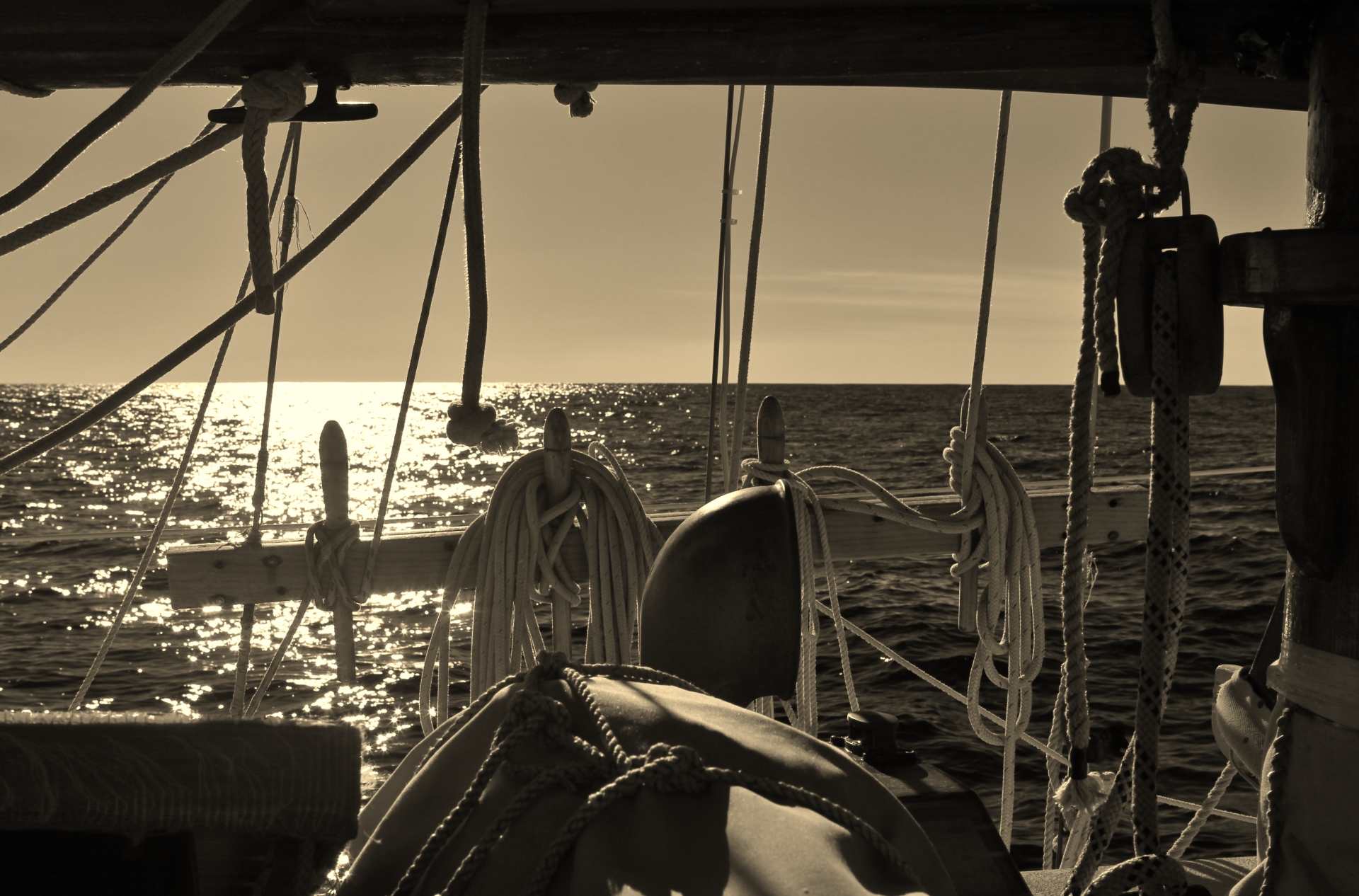 … but not for long, despite forecasts calling for 15-25 knots from the east, I find myself in near gale conditions.
It is June 21, 2016, first day of summer, and we are at 31d 31m N; 74d 31m W. The day is sunny and clear, only a light breeze from the southeast. Having run out of fresh food for some days now I have had the Isotherm cold plate turned off to save power. But yesterday, following that last spell of rough weather, I had turned it on briefly just to see if everything is OK. Nope, won't start. So I spend an hour cleaning wire connections but all to no avail. Well now I am officially joining the legions of other cruising sailors who require a refrigeration specialist at the next big port of call. For the record I have narrowed the problem down to the "brain" of the Isotherm, a little junction box with a circuit board. I remove the board and set it out in the sun for a while just to dry it out, but still to no avail.
So anyway this morning I decide to give it one more shot just for giggles and it starts right up. Yep, just purring away and I can feel the cold plate cooling down nicely. So one problem actually solved itself. You gotta count those as blessings.

Overnight the winds begin to pick up from the southwest and once again we are moving at a good clip. Thursday, June 23, and we are at 35d 07m N; 74d 31m W. And once again in near gale conditions. I do not have any recent information on the axis of the Gulf Stream, but I am guessing we are either entering it or in it. It is rough, and I spend a good deal of time at the tiller, feeling the need to keep on watch lest a big wave tries to sneak up and broach us. At 1800 hours we are at 35d 47m N; 74d 40m W, and the water is turning green, and the sea state noticeably improved–no doubt, we have reached the western wall of the Gulf Stream. Now I am a little bit nervous coming up on the shelf because I only have a passage chart for this area, no details.  I am reasonably sure the approach to the mouth of the Chesapeake is all clear of shoals or rocks, but I am going on memory here, and I hate taking any kind of chances this way.
Overnight with wind dies down to around 10 knots, and I ever so cautiously shake reefs out. A light southerly breeze comes with the next day, and I am beginning to see a fair bit of ship traffic. Then my heart races as I see what looks like a long line of breakers in between two rocks! But wait, no, it is moving … a submarine! I have never seen a submarine at sea before, this one doing about 20 knots I would say. Cool. The winds fall light when the sun goes down so I heave her to, presently about 18 miles from the Thimble Shoal Channel. And I have one bar now on my cell phone, so I shoot off some text messages. Civilization is not far.
With the passage of a cold front after midnight the wind builds in from the northeast and we are sailing again. Just before dawn I am startled out of my half slumber by a succession of fast approaching motorboats. It's Saturday, the sport fisherman are racing to the fishing grounds. As daylight begins to spread over the eastern sky I can see the Bay Bridge Tunnel and the opposing cement houses from which vehicles disappear and emerge. In between is the gap for the Thimble Shoal Channel. Broad reaching in about 15 knots and some favorable current we are up to Old Point Comfort in almost no time, and then comes the turn south into the Elizabeth River. A navy ship is backing out of her slip and headed to sea; big freighters emerge from the river mouth. As I work my way up the river I am feeling the very pleasant sensation of sailing on flat water, the boat still moving ahead but no longer lurching about. As I work my way up the river I pass all kinds of commercial docks, including a coaling station, and I begin to wonder if this was a good idea, for it appears that I am sailing into an industrial wasteland.

But as I pass the hospital at the point I reach the more inviting looking waterfront of Norfolk, and to starboard is Tidewater Marine. I needn't have worried about finding an anchoring spot, there's plenty of room. Rumble rumble goes rusty anchor chain. The little ship settles back on her tether. A fleet of one design sailboats with colorful sails glide past Ruth Avery, perhaps to see what species of bird just landed in their backyard. Two weeks, thirteen hundred miles, some challenges, not too shabby. After a few days of rest I sail over to Hampton, a favorite place from years ago.