While I waited for what seemed like an eternity to find a weather window to head offshore from the US East Coast to the Caribbean, naturally I got a lot of suggestions. The general thrust of it went something like: "Why don't you coastal hop down to Florida and then head to the Caribbean from there. Heading offshore from the Chesapeake leaves you vulnerable to cold fronts and low pressure systems coming off the coast … "
Fair enough regarding the latter point, but this strategy fails on some key points. First and foremost is a fact that has been known to sailors for centuries now: the prevalance of easterly winds (the Trade Winds) and a westerly setting current south of about 25 degrees north and on almost down to the Equator. Consider just a snapshot of a typical weather pattern for the southwest North Atlantic: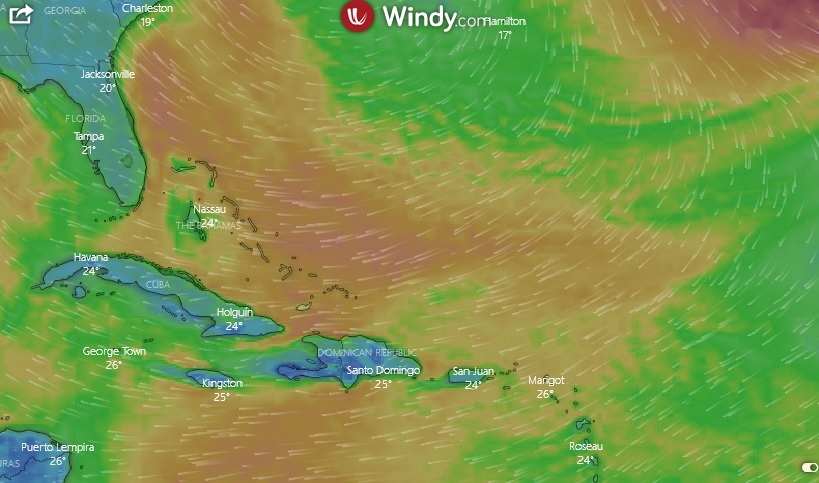 Given this typical forecast, if you were to attempt a direct passage from Florida to Puerto Rico and the Virgin Islands, you would have winds forward of the beam, in the 10 to 25 knot range, pretty much the entire way. People of course do this all the time, the so-called "Thorny Path", which will include numerous stops in the Bahamas while waiting for a favorable slant in the wind–typically the tail end of a Norther–before the next leg. But in an engineless cruising boat which is not a stellar windward performer (and most cruising boat are not …) those thorns will sting, enough at times to make you scream.
I know what I am talking about here. Way back in December of 2001 I had just completed my first major ocean passage in Ruth Avery, from the Chesapeake to Bermuda, and then on down to St. Martin. Naturally I was feeling pretty smug. Paying little attention to the weather forecast, which I occasionally managed to pick up on FM radio during the commercial breaks ( from Davy Jones, you're Caribbean weatherman), I blithely set off for Antigua.
The wind veered to the ESE, which had me close-hauled trying to steer for Antigua. And soon increased into the 20-30 knot range, the so called Christmas Trades. Once out into open water I was contending with 3-4 meter swells, and combined with the west setting Antilles current, the old girl was making significant leeway. It became clear that I was going to have to put a few tacks in to get to Antigua.
More than a few, it turned out. I put small pencil marks on my pristine paper Caribbean yachting charts from the positions I read off my handheld GPS. My tracks looked like those of an old square-rigger trying to beat west of Cape Horn, barely able to point better than six points (about 70 degrees) from the wind. It was then I realized that Trade Winds are a mighty–and persistent– force down in these latitudes.
Well it ended up taking me nearly three days to cover the eighty or so miles to Antigua, a passage I had expected to be a mere overnight. I arrived in English Harbor thoroughly whipped and greatly humbled by the lesson I had just been taught. Fair winds and following seas is not just a sailor's parting words, it is sage advice. Go with wind and current wherever possible, beat only if you must.
So getting back to our passage from the US East Coast to the Caribbean, let's have a look at the Pilot Atlas for the month of November, our planned departure date: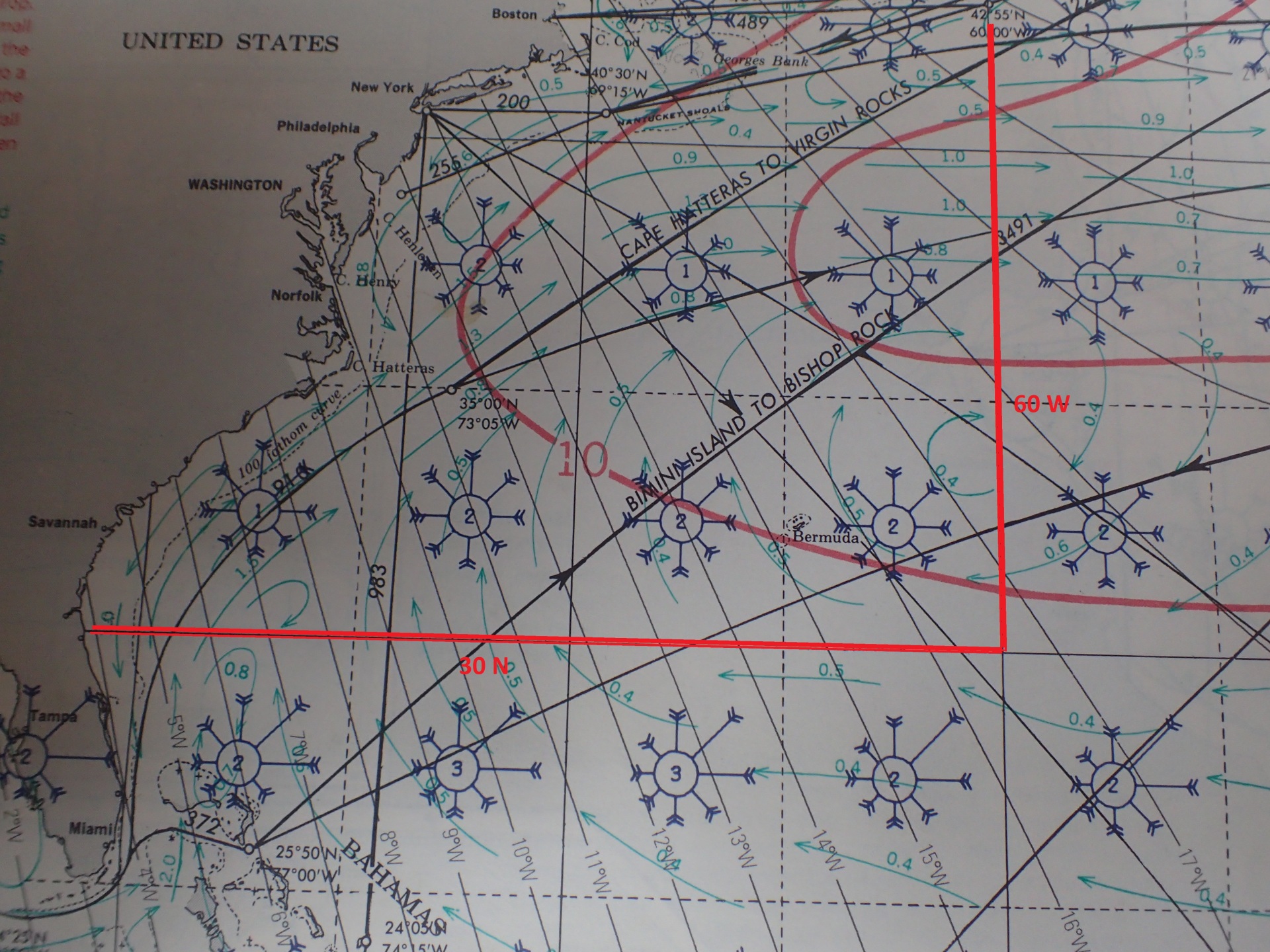 Recall that we don't want to leave earlier than November because of the risk of tropical cyclones, but we would like to get off the East Coast before winter sets in. November is the best compromise. Now each of the wind roses show average wind strengths from eight directions, the center giving percentage of calms. As you can see, north and west of 30 degrees north and 60 degrees west, respectively, the winds are quite variable but more prevalent from the north and west. So there is a decent enough chance of finding a fair wind to head southeast toward the Caribbean in this area. However, as we get down south, the winds become increasingly easterly: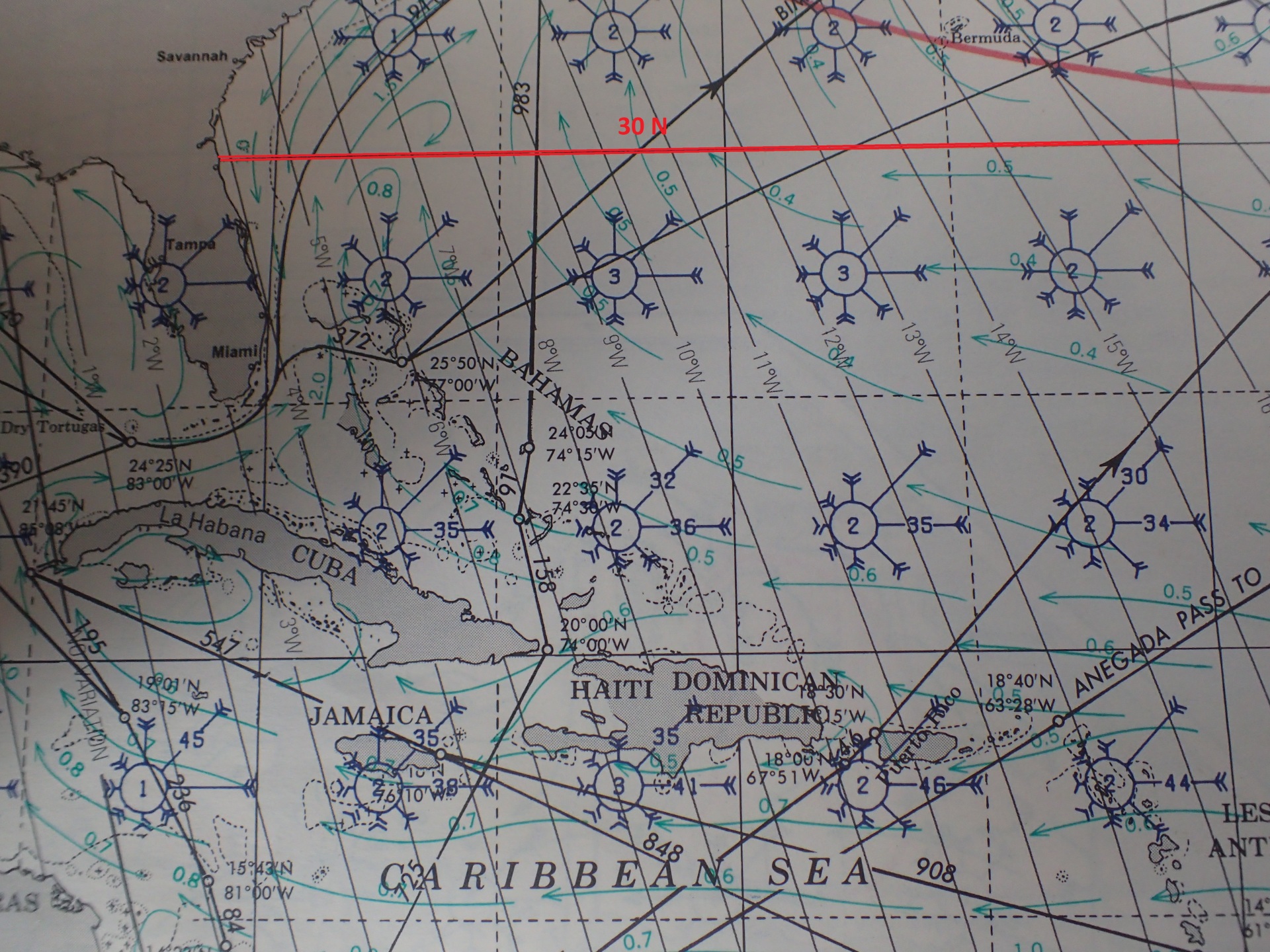 And as we approach the Caribbean the winds are almost exclusively from the eastern quadrant, from NE to SE, so there is little chance of working eastward down there without having to beat. The general strategy therefore is to use the more west and north winds north of 30 to get all or most of the way to 65 West, which is the meridian of the Virgin Islands (if we are headed there), before turning due south. Or we could put in to Bermuda. Generally I set a waypoint at 28N, 65W. Thus as we get down south into those very prevalent easterlies our course will be due south, making a beam reach the most likely scenario.
And if we wish to visit Florida or the Bahamas in addition to the Caribbean, it makes far more sense to reach the Caribbean first via the offshore passage we described. While the Trade Winds can sometimes be quite fresh during the winter months, they will be on our stern as we steer for Florida. We will also have a favorable current (the green arrows on the Pilot Atlas).
Understand that using this route means committing to a major offshore passage, and many people take the so called Thorny Path specifically to avoid such a passage. Their fears are not entirely unfounded either, as the Atlantic Ocean, particularly north of 30 N, during the transition and winter months is subject to rapid deteriorations in weather. It is not for the faint of heart. However, given much improved accuracy in weather forecasting, and the fact that so many cruisers own boats capable of making better than 150 miles per day–better than 200 miles per day in some cases–the risk of encountering life-threatening weather can be made acceptably low.
As I write this, now on the third of January, 2019, I am planning a direct passage to Key West, Florida, from the US Virgin Islands. I plan to take the southern route, using the Old Bahama Channel, in order stay south of Key West prior to entering the Gulf Stream, which will push me toward the northeast. Apart from strong winds (which is what I encountered last year passaging from Puerto Rico to Miami), the only other inconvenience to watch for are strong winter northers. Taking a more southern route helps, as the cold fronts–and the strong northerly winds behind them–tend to weaken the further south they go.